Interview with Gangpol & Mit
Meet Gangpol & Mit
A crazy mash-up of music, video, performance and hundreds of different animated folks that go bonkers. A live show of the talented French music and graphic duo Gangpol & Mit is a super fun experience.
The 1000 People Band
They tour all over the world with their project 'The 1000 people Band', a show with numerous characters having fun and go on all kinds of musical adventures. Time for a short Q&A with G&M.
What kind of project is the 1000 people band?
"The 1000 people band is the current touring live show of our duo Gangpol & Mit: a concert involving a backing band of fictional animated characters."
How did the project evolve over time?
"As with any other kind of band, our live set always evolves with time passing by: we initially tried to conceive a flexible audio/video technical setup to be able to incorporate new tunes and ideas easily. Now, it clearly looks like we're gonna keep on working with the band for a while."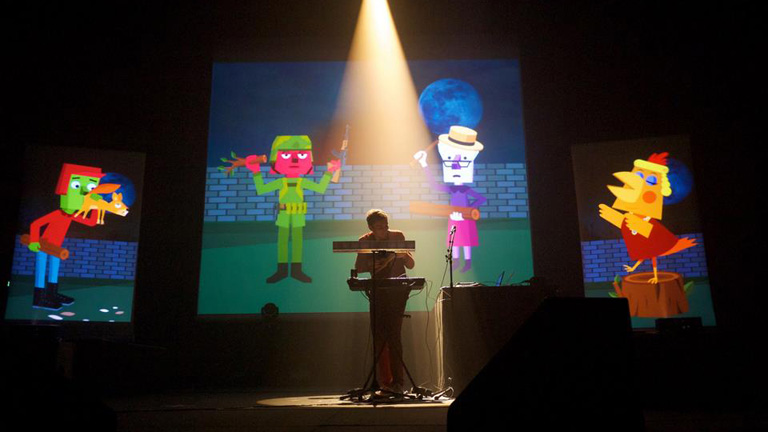 Is it made especially for live performances? 
"Yes, it was initially partly conceived to bring our live show one step further: go multi-screen, have more interactions between live gestures and video reactions. Paradoxically, now that this virtual band is here, there is also more live singing and playing than ever."
You introduce the project on your site as 'serving insatiable orchestral ambitions'. Was this also the reason you wanted to start it?
"During the last 10 years, we did score a lot of electronic-based music. We're trying to play with the fun and limits of orchestra and band imitation."
Then what happened?
"Guillaume has been designing a countless amount of characters. At some point, it became simply logical to blend both, and have the characters actually play the music for real."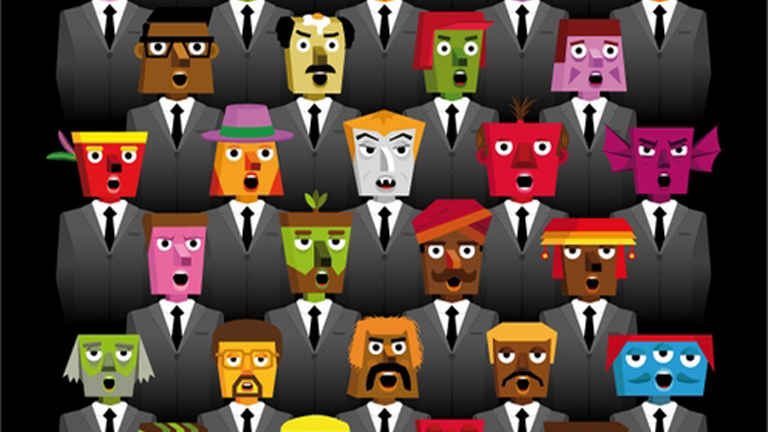 Is 1000 people not a bit much, as in: too much choice? 
"We are quite baroque, indeed. This is often a problem. I want to play all the music. But preferably every element that we use has to be meaningful, which is a true key boundary."
How many different kinds of media did you actually use?
"It may sound strange, but I'm not even sure if we're 'multi-media' on purpose… Most of our tools are now common: we use electronic gear for music, video screening, cardboard masks and accessories."
That's it?
"With the help of our collaborator Freeka Tet, we've put some sensors in those tools to trigger the sounds and video live… But we try not to use more than what's required by the content (and it's often low-tech): there is always a danger for such a project to look like one of these delirious hardware catalogs… I hope we manage not to."
The people of the band make music with the weirdest 'instruments'. How on earth do you come up with this?
"We love squirrels."
How do you synchronize music and video ?
"With patience, and a good old MIDI cable."
By Klazien
https://zp-pdl.com/fast-and-easy-payday-loans-online.php https://zp-pdl.com/online-payday-loans-in-america.php займ на кредитную картубыстрый онлайн займ на картубыстрый займ онлайн на карту