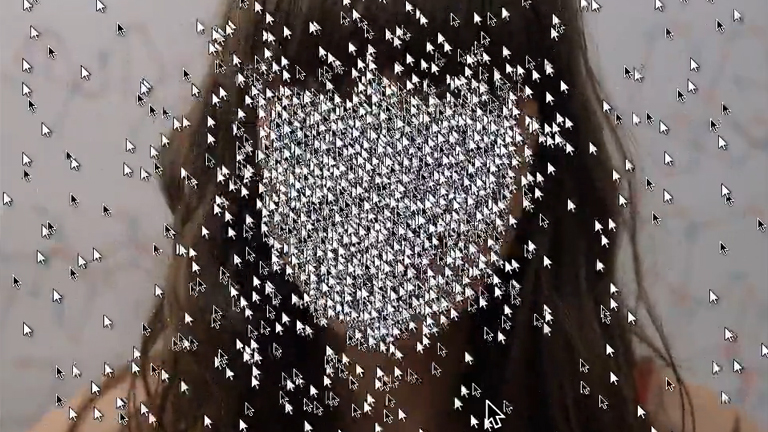 Do Not Touch
You might already have seen the latest interactive music video 'Kilo-Do Not Touch' by artsy design studio Moniker, from Amsterdam. Because that thing is pretty viral by now.
Who's Moniker again?
Moniker's known for one of the most brilliant storytelling experiences ever: 'Pointerpointer', which excels in simplicity, humor and charming pointlessness.
What is it?
Watching and manipulating 'Do Not Touch' is being part of a crowd-sourced experience, where your cursor is one in a wave of a thousand other cursors from the viewers before you. And oh yeah, the music video is by an Amsterdam based band called Light, Light, and their song's called 'Kilo', instead of 'Do Not Touch'…
Different names for the same video? That's weird…
Lets ask Roel Wouters from Moniker. RW "In this case, the music plays a supportive role. We wanted a title that gives the project a context and is funny to tweet. That's important because we depend on the participants. No cursors, no project.
Is 'Do Not Touch' a sequel to 'Pointerpointer'?
RW: "They are two projects in a series about the farewell of the cursor. We've had some good times with the cursor, but it's time to say goodbye. See it as a long relationship in which you gradually grow apart. Saying goodbye is painful but inevitable. Drama!"
After gathering 1,5 million(!) user cursors, which patterns do you observe?
We didn't really have time yet to make a good analysis, but some beautiful things occurred. The smiley gets better and better; there's some cursor clumping at 'Avoid each other' and in the morning there are more European visitors and in the evening more from the U.S.
The video is actually quite layered. At first, you find yourself in the digital graphical environment of an old computer. Then it zooms out and you have a look into a music studio where random things happen around the band. Add some simple assignments to it, like 'Stay in the green zone', plus the feedback from the previous users in the form of hundreds of cursors and you get a bit of a fun experience of far fetched weirdness.
How did that happen?
RW: "We did several user tests and distilled some assignments out of that, from which we think they'd work well, deliver interesting results and add up to a real story. Playing along with your cursor requires a lot of attention, which can move the 'story' somewhat to the background."
Well, what are you waiting for?
Add your own cursor to the video! https://zp-pdl.com/apply-for-payday-loan-online.php https://zp-pdl.com займ всем без отказазайм на год на картучто будет если не платить онлайн займ